Pixel C is the first Android tablet designed and made entirely by Google. Built for productivity, its key feature is a hard cover that doubles as a keyboard. At just over two pounds with the keyboard, it feels surprisingly heavy. That heft is either one of Pixel C's biggest drawbacks or a smart design choice, depending on what you plan to use it for and where.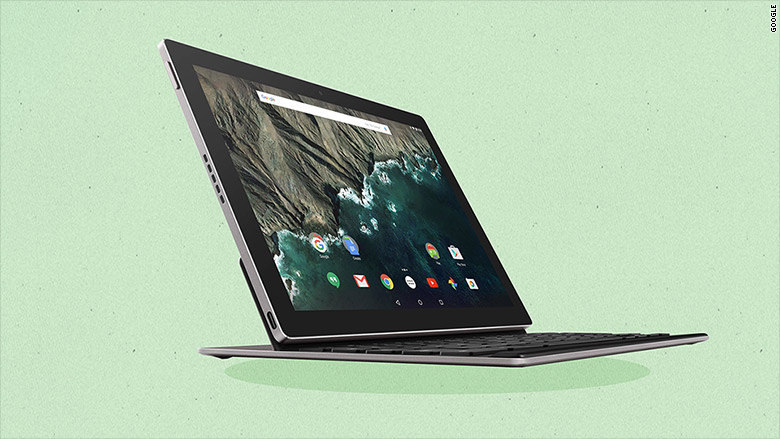 Turning a tablet into a work computer is a bit of a pickle, and the Pixel C faces many of the same issues as its competitors. Tablets have grown out of smartphones and often run somewhat modified versions of their simple operating systems. It can be difficult to multitask without full versions of your productivity software, or the traditional multitasking features of a desktop.
The Pixel C definitely has the power of a work laptop. It runs on a Nvidia Texgra X1 processor and its battery will last more than 10 hours. There is one USB Type-C port, which acts as an all-in-one port for charging, transferring data, connecting to an external display, and can even power up your phone.
The bright 2,560 by 1,800 pixel screen is great for videos, but this is not primarily an entertainment device. If you only want to watch Dora and check sports scores, there is no shortage of sub $100 Android tablets. For $499 for the 32 GB model or $599 for 64 GB, the Pixel C is designed for doing more.
Most Chromebooks and Android devices are made by third parties like HTC and Samsung. But Google likes to make select high-end versions of hardware to serve as examples of what the products can be at their very best, like the Chromebook Pixel laptop. The Pixel C is a showcase for Android 6.0 Marshmallow as a hybrid OS. The hardware has its inspired touches, but is something that other manufactures will hopefully improve upon.